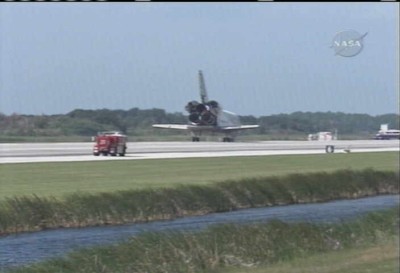 After a very successful flight, Discovery made a safe landing at Kennedy Space Center just a few minutes ago. The astronauts are exiting the space shuttle for the landing press conference.

The landing was successful on its first attempt, right at the home base at Kennedy Space Center. This was probably the most on time flight for years now – launch on first attempt, perfect orbit operations and now even a landing that could not be more perfect. Congrats to the whole NASA team for this fantastic effort.
Among the many achievements was a historic space walk to restore the international space station ISS to fully operational state after rips where detected in a solar array. This spacewalk was made possible not only by the professional work of the space walkers but also hundereds, if not thousands, of people on the ground that got a plan ready within a very short time frame.
As it looks now, Atlantis STS-122 December, 6th launch will probably be also right on time. But today let's celebrate the successful STS-120 mission.