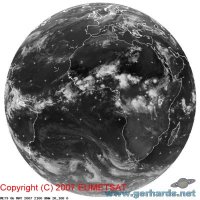 "The Clouds" is both an educational and fun project. It aims at providing a better understanding of nature as well as pure beauty. Here, find animations of the clouds encircling our planet Earth. Animations are based on weather satellite data. The project is still in its infancy, but already has a number of stunning images.
Follow links below to watch the animations:
I hope this project is useful. Feedback and suggestions are highly appreciated.
While I have not yet found time to create some useful background information, you may want to visit Wikipedia's article on "atmospheric circulation".
Copyright © 2007 Rainer Gerhards
Satellite Picture: Copyright © 2007 EUMETSAT
Last Update: 2007-08-11